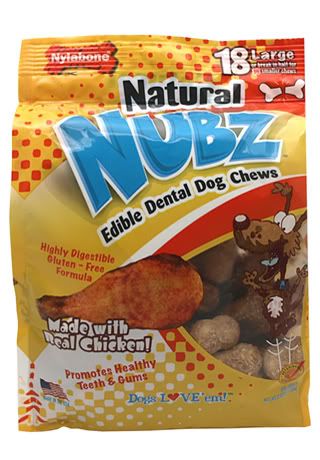 I learned from other bloggers post that August 26 was National Dog Appreciation Day. It's the day to heralds the contributions made by dogs throughout society. Dogs are known as the man's best friends and they deserved to be treated extra special. They have been the human's loyal companions and bring joy and laughter to most pet owners. Give them the best care they deserve and the good food they need. Nylabone had introduced this edible product as healthy treats for your dog.
Nylabone Nubz
is edible dental dog chews that you can give as dog treats. It has 18 large size bones that you can break into 36 smaller treats which is ideal snack size. You dogs will love Nubz Dental Treats as it is made of highly digestible natural ingredients. Most Veterinarians have recommended Nubz treats to help clean dogs' teeth, promote fresh breath and healthy gums, and reduce tartar to build up.
Nubz Dental Treats
are made with real chicken, with no added sugar, salt, or preservatives and it is made in the USA. You can find it at Costco and save with Costco monthly coupon book if you are Costco members. This coupon value worth $3.50 is valid until August 19th – September 12th. So, check out
Nylabone.com
to know more about this dog treats and other healthy dog products. Nylabone is the leader in responsible pet care for over 50 years. Buy your dog Nubz Dental Treats to show how much you appreciate them. What are you waiting for? Hurry while supplies last!