She was still look messy with the chocolate ice cream cake she hate before opening her birthday presents. She celebrated her 2nd birthday last August 3rd. I love her facial reaction when she saw the lady bug pillow toy, especially the puppy toy.
I know already thank all the wonderful friends who greeted and send gifts to Justine, but I want to thank them again.
You ladies have so nice to my dragons and great friends to me. I really appreciate your kindness and honesty.
tsang Dhemz, MamiLulu and Marz Willa.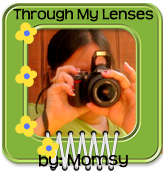 Thank you mommies for the gifts you sent. I also would like to thank Sir Mel for the special birthday post and for always including Justine and my family in his prayer. Thank you Sir Mel, you are truly a great man and wonderful friend.